That briefcase loaded with cash is not mine. Though nothing stops me from looking forward to a day when I have that much spare money to splurge. When I was in my teens, I imagined myself owning a business like Microsoft Corporation at best, and even at worst I thought I'd be living in an ocean facing mansion.
We all endeavor to actualize our goals. I've realized how valuable endurance and smart work is for delivering on your dreams.  Though we do learn to handle our finances through our own varied experiences, reading the books on finance on this list by the stalwarts  is undeniably helpful.
So, here's a list of books on finance that will help you understand the very basics of money management through collective knowledge and judgment rather than your own mistakes (and hence saving you from needless loss of time and resources).
1. Your Money Or Your Life
This book might as well inspire you enough to leave the job that is making you discontented and slog day after day. It's the kind of read with compelling revelations on your choices regarding how you are spending your life and how you'd preferably be spending it. To be fair, the book does get out of context at certain places (esp. when it comes to financial instruments and conditions which have considerably morphed into something else since 1991). However, the book is applicable more than ever to the current context when it talks about consumerism and sheep-herd mentality. All in all, there's a high probability that after reading it you would become financially responsible and fine-tune your spending habits.
2. Rich Dad, Poor Dad
The book is thought-provoking, creates a sense of curiosity, urges you to be financially knowledgeable and healthy, and pushes you to seek opportunities to earn, invest and grow. It encourages you to explore possibilities out of a rut and goes overboard in exhibiting certain human behaviors and practices concerning earnings and savings. It offers an alternative perspective on education as well, but please take it with a pinch of salt. The portrayal of a poor dad and a rich dad is impressive, and the author expounds his financial advice through the actions and resulting outcomes of these two gentlemen. The book should be used to expand our horizon of understanding and go into a mode of doing well-balanced research of options to understand what works the best for us. After all, no one medicine works for all. (Please know that this is one of the most popular books on finance.)
3. The Intelligent Investor
This book is a bible for investors in the security market. It's rather amazing how the book easily delves into the hardcore concepts of investment and explains in simple language to an uninformed reader. The book gives a sound and informative suggestions on valuation methods to be used in choosing the right stocks and companies, keeping emotions away from the decisions, not following the market trends aimlessly and focusing on investing rather than speculating.
It was only this year that I decided to invest my money in securities and took a month's time to understand the market before starting with the actual (bare minimum) investment. I believed my strategy was infallible and assumed that it was pretty easy to beat the market and churn a profit. Well, things didn't turn out to be that simple. Rather they turned out to be slow, profits were low and my money got stuck in some bad choices. Obviously, I started looking out for strategies for smart investing. It was interesting to read all the mistakes that I committed in The Intelligent Investor. If nothing else, the book will guide you through the plain yet insightful basics and techniques and the most common pitfalls of naive and even experienced traders.
4. The Richest Man in Babylon
The best part about the book is that it inspires you enough to have a financial strategy. It talks about tackling debt, encourages savings, propounds investment, encourages curbing unnecessary spending, and advocates self-growth. Did I explain the book in a nutshell? Obviously not. It's an absolute must read for people looking for material on financial planning. Though a simple and short read, it has timeless theories that expound on the self-discipline needed to manage money. It could easily pass off as a book with name Handling Your Money 101.
5. A Total Money Makeover
For the starters, Ramsey's the total money makeover is going to give you a sound foundation at money management. He accentuates on the point that enhancing your financial position is 80% mental and behavioral and just the remaining 20% skill and know-how. And this is pretty understandable, a lot of us are aware of what we should be doing, but don't necessarily act on it. He does present a lot of doable guidance on emergency funds, debt snowballing, having the finances cut out for our own needs (rather than affected by societal trends), retirement funds and much more. Throughout the book, you can find a lot of anecdotes of people pleasantly affected by the total money makeover. The book tries to give you a sense of direction to prioritize your financial obligations. However, the author, as I rightfully deem fitting, leaves the end choice and judgment on the person.
6. I Will Teach You To Be Rich
If you believe in action, wish to set deadlines and want to get started from day one, this is the right book for you. There's a well cut out advice on every aspect that the book covers be it investing, retirement funding, buying a house, or saving. The book introduces you to a 6-week program of getting you into financial planning and stability mode. The author proposes intelligent concepts like Conscious Spending Plan and setting up your finances in auto-mode with no beating around the bush. What sets this book apart from other books on the lists is the fact that it is extremely practical in its approach, treats the readers as financially responsible and addresses to the need to be able to splurge a part of your earnings guilt-free on things that really make you happy.
7. The Millionaire Next Door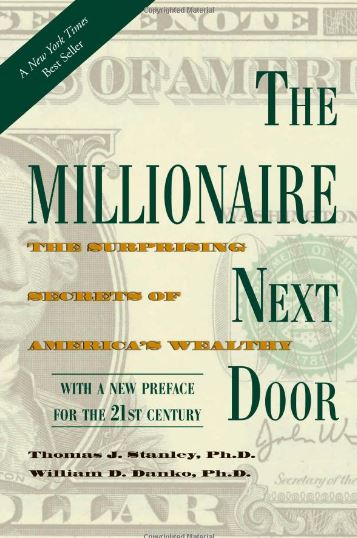 This one again is a very pragmatic book and talks about how one becomes and stays a millionaire. The book delineates the shortest routes for getting wealthy. Being frugal is one of them. Surprising, right? The book classifies people into PAWs who save, invest, live frugally, plan, and even toil when needed, and UAWs (Under Accumulators of Wealth) who simply believe in ostentation and show-off of high-end lifestyle. To the contrary of our notions, wealthy people don't necessarily drive brand-new cars, live in upscale suburbs, spend lavishly on luxuries or buy overpriced clothes. The book expounds on 7 factors that contribute to wealth-accumulation which have been set forth in the form of interviews, personal accounts, and stats.
8. The Big Short
It's not a self-help book on personal finance like the previous ones on the list. Nevertheless, it's a must-read. Every slump in the financial market affects us. Every decision by the management of a Wall Street firm, however implicitly, changes our lives. The Big Short is an eye-opener in all those respects, and if not as an investor then at least as a taxpayer it's imperative to see the dark side of the financial markets and the corporations.
This book is an account of the mushrooming of the housing bubble(during the 2000s)  and how it ultimately led us to the 2008 sub-prime mortgage crisis in the US that not only crippled its economy but had ripple effects on the rest of the world. It is absorbing, the writing style is enjoyable, and the story empowers us with the understanding of how the greed of corporations can fail with the entire system. The next book would give you an account of what happened afterwards.
9. Too Big To Fail
It's another one on the 2008 financial crisis that slumped the world into recession for years, and are not we to some extent still recuperating? The book depicts how "too big to fail" people and corporations on the Wall Street and their flawed decisions overturned the entire financial market and investment banking system. It is a rather detailed account, with all the reporting and facts launched at us, about the developments leading to the crisis and the immediate reactions of Washington and the Wall Street to protect themselves. Yet, the book keeps the reader engrossed and committed to itself. As you can see, like the above book, it is not a book on personal finance, but it's as crucial to read. We operate within a system, and the hard-earned money that we invest in real estate, securities or other assets is at the behest of a few rogues (no offense intended). Thus knowing about that system becomes essential, doesn't it?
10. Liar's Poker
This book is an autobiographical account of Michael Lewis of his days in Salomon Brother at the Wall Street. The book puts into the spotlight the audacious greed and manipulation of the firm and the brokers. It brings forth how these people made fools out of an ordinary investor. Though Salomon Brothers eventually ended in a slump, the culture described in the book would continue to disgust you for the longest time.
I maintain an opinion that no autobiographical account should be taken at face value. Still this easy to read yet engaging book enlightens us pretty unconvincingly about the happenings in the inside of an investment bank. It also gives us some practical knowledge about how bonds function. By the way, did you know the mortgage-backed securities (and the term secularization) that led to the 2008 crisis was coined on the floors of Salomon Brothers?
Phew! I am sure after reading a bunch of these books on finance, you will be able to write one of your own.
Did you like the list of books on finance? Do you think I missed out on any of the good books on finance ? Then kindly comment. In case you think the list of books on finance resonates well with you, please like, share and subscribe.
You may also want to check out these amazing self development books.
Keep Reading. Chao!