Although I love eating healthy, it can get boring at times. Have been getting frequent urges of having mixed sauce pasta and momos lately. Though I do succumb to these urges time and again (ate out 3 times last week). Other times, I just gorge on high-protein legumes to root out these un-welcomed cravings. Before we jump into the list of legume recipes, here's a quick brief on what legumes exactly are.
What are Legumes?
Legumes are plants, whose pods have seeds inside them. Some of the most common and famous types of legumes include peas, chickpeas, soybeans, beans, peanuts, lentils, and others. You can't have most of them without cooking.
Proteins, fats, fiber, and carbohydrates are found in excessive amounts in most Legumes; however, they do vary according to the legumes.
Not only are they delicious in taste, but they are also incredibly rich in nutrients. For most of us legumes are already an essential part of our diet.
In this post, I've listed down some of my favorite Legume recipes. Also, all of the legume recipes on this list are pulse-based and not fresh beans, peanuts and peas based. Would surely need to do a separate post on the remaining legume family. Hope these scrumptiously nutrient-rich legume recipes satiate your hunger and appease your taste buds!
1. Kale and Chickpea Salad
If you love to have salads or are looking to make an easy, yet highly nutritious one, Kale and Chickpea salad is the best! With a few ingredients, which are easily available, the recipe ranks the highest among others Legume recipes. Also, it is easily customizable according to the items you have in your fridge. Let's jump to the recipe.
Recipe
Firstly, you must get young (preferably curly) kale leaves and boiled chickpeas. If you don't love chickpeas, it can be substituted with white kidney beans (cannellini beans).
Cut the kale leaves and toss chickpeas in a bowl along with diced onions, tomatoes, bell peppers. For seasoning, sprinkle pepper, salt, olive oil, cloves, or may be some dried mint leaves.
2. Potato Soup with Beans and Kale
Soups can be an amazingly delicious meals if perfected with the right ingredients esp. herbs in accurate proportions. By knowing how to make this vegan soup, you'll perfect the art of keeping yourself healthy by using the simplest items out of your fridge.
Most of the recipe can be modified according to your preferences. For example, if you can't find kale, use spinach or lettuce, or something you feel will add taste you are looking for.
Recipe
To begin, start heating olive oil in a pan and add finely chopped onions, celery and carrots. Cook until you feel the vegetables are tender.
Put the garlic, tomato paste, and other seasonings in the pan. Finally, add the diced potatoes and vegetable broth, and bring it to a boil.
Add boiled kidney beans and keep cooking. In a couple of minutes, add kale and let it simmer. Voila! Season the soup with salt and there you go, a deliciously amazing recipe!
3. Lentil and Mushroom Soup
This is a slightly different recipe considering it's a soup but be sure of getting a loud zing of flavours. With this soup, not only will you feel full, but will crave more of it as it magically soothes your taste buds. Between you and me, I call it unicorn soup.
Recipe
In a pan, sprinkle some olive oil, add finely chopped carrots, onion, and garlic and let it cook. Add finely chopped mushrooms and season with salt and pepper. Cook until mushrooms are softened and golden brown.
Add lentils, and water and let it cook for about half an hour till the lentils become tender. Stir in soy sauce and season with salt and pepper. Serve soup garnished with cilantro. If you like the taste of ginger, you can grate and add some of it along with lentils.
Bazinga! You're in for a delightfully treat.
4. Vegetable Chickpea Soup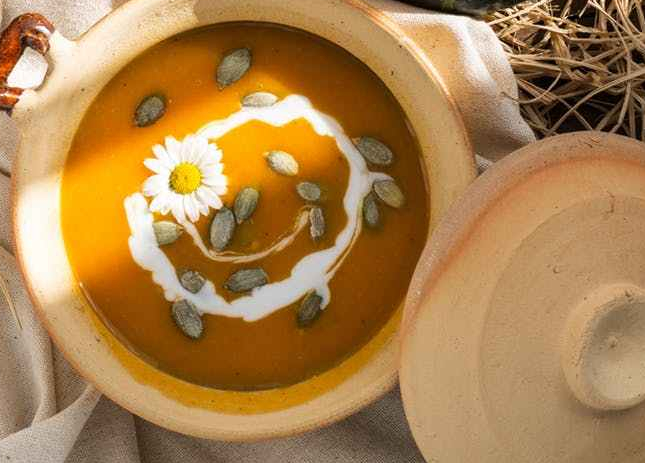 Is it too many soups on the list? But be sure these are as good as meals, filling and delicious. There's a chance you would've heard of this next recipe: vegetable chickpea soup. With minimal ingredients and an easy recipe, the soup is really refreshing. Its saucy with unique taste of chickpeas and strong flavours of garlic and ginger.
Recipe
Heat some olive oil and add some finely chopped onion and celery into it.  Add vegetable stock, tomatoes and boiled chickpeas and a dash of black pepper. Throw in finely chopped broad beans and cook a couple of minutes. Mix in some lemon juice. Season to taste, then top with a sprinkling of lemon zest and chopped herbs.
There you go, one of the tastiest soups loaded with nutrients!
5. Black Bean Wrap
Black beans are a delicious treat and have a wide variety of recipes dedicated to them. In this recipe, we use tortillas and the seasoned black beans to make a mouth-watering wrap!
Recipe
Mix boiled black beans, cilantro, onions, tomato, garlic, chili peppers, and boiled corn shells in a bowl. Add some olive oil in a pan, and in medium flame, toss the mix for a couple of minutes in the pan.
Microwave a tortilla and add half a cup black bean mix into it. There it is, your very own black bean wrap!
A very easy to prepare, delicious and a filling treat on the go!
6. Lemon Parsley Bean Salad
It's difficult for people who follow a strictly healthy diet to always follow that routine, because no one is always in a mood to work hard for the food. We have our low days when we want to get healthy food served to us? Or at least have recipes which require minimal effort. This recipe is one of those.
It's a delightful salad. With just a few ingredients, it's easily fixable in an office or work environment as well.
Recipe
In a bowl, mix your boiled beans, boiled chickpeas, finely chopped onions, mint, and parsley. Throw in some freshly cut apples. Make a lemon dressing with olive oil, pepper, lemon, salt, and crushed garlic. Pour the dressing over the mixed beans and have it immediately to ensure a refreshing taste!
7. Cracked Wheat Chilli
This is perhaps the healthiest legume snack on this list. You sure must add this delicious mix of vegetables and kidney beans to your diet.
Recipe
Put some olive oil in a pan and add finely chopped onions, and garlic. Once the onion is golden, mince the mixture in a food processor. Once again add some oil in a pan, and add minced onion mixture to it. Mix in finely chopped tomatoes and let it cook.  Add some broth and boiled black and kidney beans, cracked wheat (or bulgur or broken wheat or daliya), corn shells, chili powder, and oregano. Let it simmer till bulgur is tender.
The cracked wheat chili is another easy to make nutrient rich recipe.
8. Hummus
If you're a lover of dips and sauces, this chickpea dip is going to blow your mind away as it is incredibly simple to prepare, and is finger licking good (I am not trying to steal any brand taglines here).
Recipe
In a blender, chop the garlic. Add boiled chickpeas to the minced garlic in the blender. Then add some lemon juice, tahini, and salt to the blender. Blend until the mixture turns creamy and consistent. Transfer the mixture to a serving bowl. Sprinkle with pepper and pour olive oil over the top.
9. Vegetable Quinoa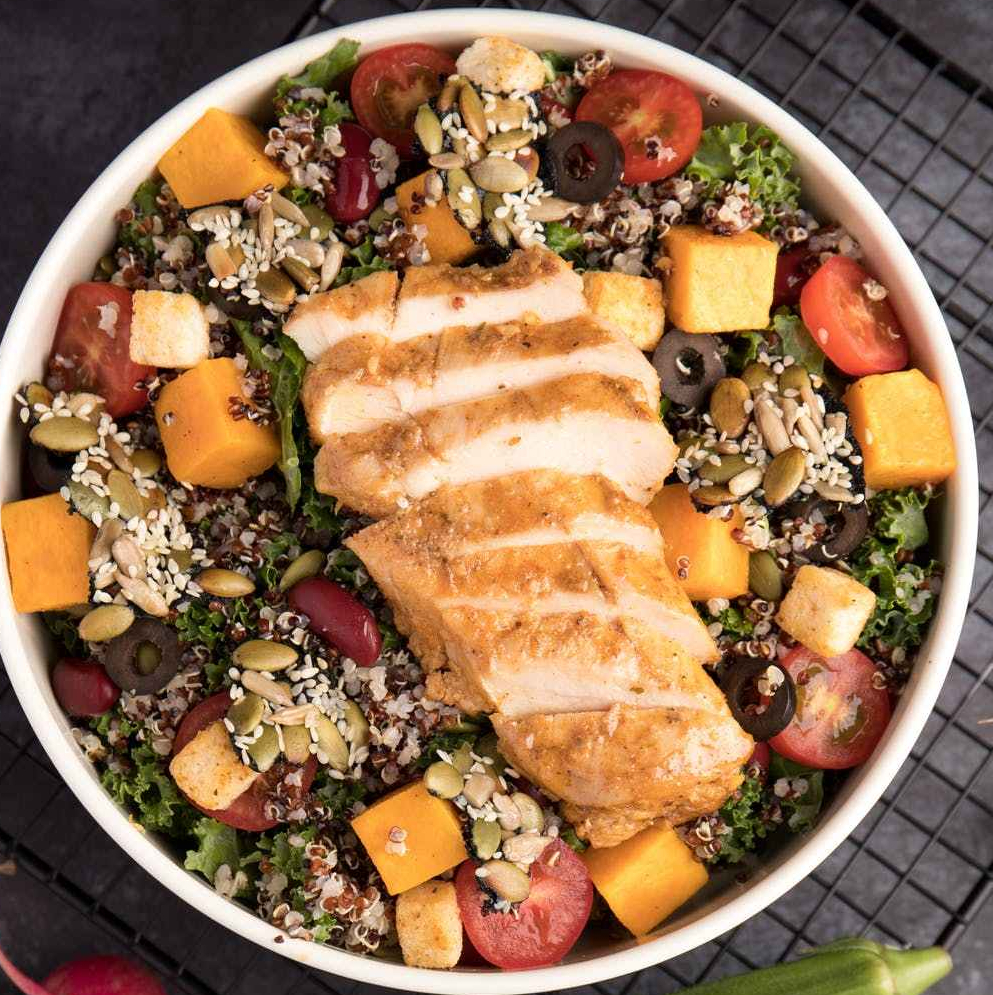 Quinoa is one of the most popular meal options whether you are into healthy eating or not. This recipe of chickpeas and quinoa is really one of the best quinoa treats you can have.
Recipe
For this, in a pan, lightly toast the vegetable mix you love and keep it aside. Add boiled chickpeas and sauté it for a couple of minutes. Add vegetable stock, lemon, and herbs and seasonings. Once the water starts to simmer, add the Quinoa and stir. Cook it till quinoa is tender.
10. Chipotle Black Bean and Rice Skillet
If you have perfected this recipe, fixing easy meals will no more be an issue for you. Black beans, rice, greens are the main ingredients of this appetizing recipe!
Recipe
Heat olive oil in a pan and cook finely chopped onions until fragrant. Thrown it some tomatoes, ginger and celery, and let it cook for a couple of minutes. Add the cooked brown rice, boiled black beans (or chickpeas), lime juice, water, herb and spices (high or low according to your liking), and salt.
P.S. You can replace one legume with another in all of these recipes  Each legume will bring its unique taste to the recipes. To know more about different kinds of legumes, check this link out.
This is the list of my go to legume recipes. Do let me know if there are any of your favorite legume recipes featuring on this list or in case you tried to make any of these. Post your suggestions on the comment box below. If this post on legume recipes resonates well with you, please like, share and subscribe.
Keep Reading. Chao!
Disclaimer: Some of us might be allergic to certain food items. Kindly consult a specialist before consuming anything that doesn't suit you.
Looking for some on the go protein rich snacks. Check out this list of protein rich snacking options.