There are those days when we are absolutely done with healthy food. I have this breakdown every Sunday and my first thought is why even bother myself with trying to follow a healthy diet. The world is anyway going to end and I am aging and dying. After the monologue and a feeling of revolution against healthy food, a sauce in my refrigerator is what saves me from swallowing carbs and junk. This is the thing about homemade sauce. Its delicious. It really is. And the homemade sauce recipes are sound from health perspective a well.
Use a sauce as a condiment or a dip or a spread, the ways to consume it are varied and it gives our okay food, a relishing turn. There are sauces to be savored with pasta, sandwiches, baked soy chips, tortillas and pancakes. A bottle full of these will keep your taste buds pleased and your healthy food routine won't be compromised. So here's a list of healthy, homemade sauce and sauce recipes.
1. Salsa (or Italian Sauce)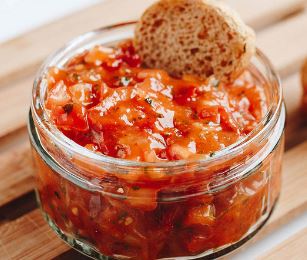 Its the classic red sauce for pasta. There is goodness of tomatoes, onion, garlic, basil and oregano.  You can use it as sandwich spread or filling to your tortillas, enchiladas or burritos. Even mix it up with freshly cut salad.  This is one of the tastiest and easiest spaghetti sauce recipes you can get your gets on.
Salsa Homemade Sauce Recipes
On a medium flame, heat some olive oil. Saute minced onion (1 Medium) and garlic (4 cloves) until onion is translucent. Add water (1 Cup), finely chopped tomatoes(1/2 Cup), ginger and tomato paste (1/3 Tsp Ginger and 1/2 Cup Tomato paste), basil (1 Tsp Paste) and oregano(1/2 Tsp) ; add a dash of salt and pepper. Keep stirring the mixture and cook until the sauce is thick. 
2. Alfredo Sauce
Its creamy, rich, thick and tasty. Not exactly  a healthy sauce because of all the cream, butter and cheese. but definitely a healthier option compared to most of the packaged junk. And anyway cream and butter when consumed in healthy portions are good for the body. So yeah,if you keep check on the portion size, you're good to go.
Alfredo Homemade Sauce Recipes
On a medium flame, heat butter(2 Tbs). Gently add heavy cream (1/2 Cup). After approximately 5 minutes, add garlic (1 clove) and Parmesan cheese ( 3/4 cup ) and keep whisking the contents. Add some finely chopped cilantro and sprinkle some oregano.
3. Hollandaise Sauce
Hollandaise Sauce Recipe
Blend egg yolk (3 egg yolk), Dijon mustard(1/4 Tsp), lemon juice(1 Tbs) and a dash of chilli sauce. Melt the butter(1/2 cup) in a pan and gently and gradually add to the blended mixture while continuing to whisk it. Heat in a microwave for about 20 seconds and whisk well.
4. Garlic Sauce
Garlic is an elixir for a healthy heart. This garlic sauce recipe uses whipped cream but you can make one without cream as well. It can be mixed with fillings of enchiladas, sandwiches and burritos and as spread on toasts, tortillas
Garlic Sauce Recipe
Boil water(1/2 cup) over medium heat. Add the garlic (2 Tbs Chopped) and garlic powder(1 Tsp), and boil till the water is gone. Gently add and stir in the heavy cream (2 Cups), finely chopped parsley, salt, and pepper. Mix the cornstarch(1 Tbs) with water (1/2 Cup), and add to the pan. Keep stirring until the sauce has thickened.
5. Cilantro & Peanuts Sauce
Cilantro and lemon are excellent for digestion. Peanuts are high on several essential vitamins and minerals as well as rich in proteins. This is an excellent and savory sauce and can be used as a salad dressing. It combines the best with sandwiches, burritos, enchiladas and even a plain toast.
Homemade Sauce Recipes
Blend well cilantro(chopped 2 cups), green chili (2 chilies), roasted peanuts (1/4 cup), lemon juice (1 Tbs), a dash of salt and pepper. (You can add mint leaves( 1/2 cup) along with cilantro as well.)
6. White Sauce
Whether its white sauce pasta that makes you weak in the knees or white sauce with baked tortilla chips that you crave for at midnight, this white sauce recipe is to make your edginess (about anything whatsoever) go away and instill a new food love for homemade sauces .
White Sauce  Recipes
Melt butter (2 Tbs) on a medium flame. Add all-purpose flour (2 Tbs), whisk till a smooth batter is formed (without lumps). Gently add milk (1 Cup). Keep stirring the mixture until it thickens.
7. Mustard Sauce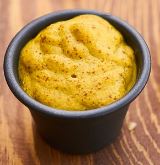 This sauce is quite healthy. Mustard seeds are powerhouses of antioxidants, omega-3 fatty acids, anti-inflammatory compounds, and essential minerals like calcium and manganese. This can be used on salads, as dips and sandwich spreads.
Mustard Sauce Recipes
Blend Dijon mustard(3 Tbs), honey (2 Tbs), cider vinegar(1 Tbs), black pepper (1/2 Tsp), and a dash of cayenne pepper in a bowl. Gently and gradually pour olive oil(1/4 cup) into the mixture and keep whisking it .
8. Chilli Sauce
Two lines of poetry on chilli sauce:
We all need to spice up our foods once in a while,
even if it means burning our tongues and our intestines.
You can literally enhance the flavour of most tasteless of foods with this sauce.
Chili Sauce Recipes
Mix homemade tomato sauce(1 cup), brown sugar (1/4 cup), vinegar (2 Tbs), and allspice (1/4 Tsp). Pour the properly blended mixture into a covered jar, and refrigerate some a few hours for flavors to be fully absorbed.
9. Classic Tomato Sauce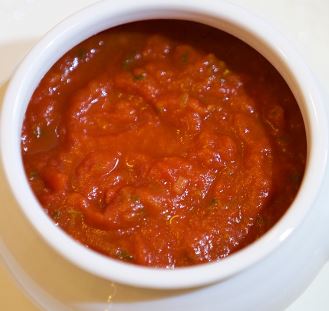 Just so all the not-so-health-conscious people know, health conscious people love tomato sauce (ketchup). Its just that we take the pain of preparing homemade tomato sauce with fresh ingredients and less sugar. Tomato sauce jazzes up sandwiches, burritos, omelettes or baked chips.
Tomato Sauce Recipe
Blend tomatoes(1 cup), tomato paste(1/2 cup), parsley(2 Tbs), garlic (1 Cloves minced), oregano (1/2 Tsp), brown sugar (1 Tbs) salt, and pepper. (This step is optional: Over medium flame, saute the finely chopped onion (1 small) in olive oil for 2 minutes. In case you don't wish to add onion, just heat some oil). Add the blended mixture and white wine( 1/4 cup). Keep stirring and let the tomato sauce simmer for about 20 minutes.
10. BBQ Sauce
Its easy to make, delicious and can be used to marinate anything and everything that you'd like to BBQ. The sort of smoky flavor in this BBQ sauce makes it an amazing choice to be used as spreads, pasta sauce and even as dips for your sandwiches.
BBQ Sauce Recipe
Heat olive oil in a saucepan over medium flame. Saute onion (1 chopped) and garlic (3 cloves minced) with the red chilli (1 finely chopped) and fennel seeds (1 Tsp crushed). Add brown sugar (1 Tbs), soy sauce (2 Tsp) and tomato sauce (1 Cup) and a dash of salt and pepper. Let the mixture simmer for a few minutes.
11. Pesto Sauce
This is the most aromatic sauce on this list. There's basil which is a powerful antioxidant, anti bacterial and anti inflammatory herb. There's walnut superbly rich in proteins and fiber. And there's also cheese, rich in fat, but just a couple of tablespoons. This is a perfect add on to your pasta and sandwich filling.
Pesto Homemade Sauce Recipes
Blend together basil leaves (2 Cups), walnuts(3/4 cup), garlic (2 cloves peeled), and Parmesan cheese (2 Tbs) into a fine paste. Gently and gradually add olive oil (1/4 cup) while stirring the mixture well. Add a dash of salt and pepper.
12. Peanut Sauce
Peanuts are healthy and so are the other ingredients of the sauce. This is phenomenally different in taste from other (mostly tomato based sauces). Its rich, creamy and although a bit fattening (if consumed disproportionately) but nevertheless nutritious.
Peanut Sauce Recipe
Whisk peanut butter (1 cup), skimmed milk (1/3 cup), water(2 Tbs), lime juice (2Tbs), soy sauce (2Tbs), homemade chili sauce(2 Tbs), ginger (1Tbs minced), and garlic (2 Cloves minced). Add some finely chopped cilantro.
This is the list of my go to homemade sauce and sauce recipes. Do let me know if there are any of your favorites sauce recipes featuring on this list or in case you tried to make any of these. Post your suggestions on the comment box below. In the post resonates well with you, please like, share and subscribe.
Keep Reading. Chao!
Disclaimer: Some of us might be allergic to certain food items. Kindly consult a specialist before consuming anything that doesn't suit you.